Tomato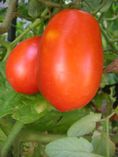 Tomato despite the widespread belief that it is a vegetable is actually a fruit.
From Central America and South America, was widely grown and consumed by pre-Columbian people, and is now grown and consumed throughout the world. Tomatoes can have different colors and shapes. Although far more common to find it in red now, new types of tomatoes can be found in shades of pink, yellow and orange.
They are a source of potassium and also vitamins A, C and K.